Baby Blessings
Baby Blessing ceremonies are a beautiful non- denominational way to welcome your baby into the world. They can be conducted shortly after birth through toddler or school age when the child is able to celebrate in his/her own way.

Baby Blessing ceremonies celebrate your child's unique spirit, promise your commitment as a parent; and can also welcome the child into your extended family, family of choice or a larger community.

It is always an honor to bless a baby, but even more so when I am able to continue a connection with couples I officiated for over the years.


I'd be happy to discuss with you the components you would like to include in your ceremony, just drop me a line via the Contact Me page or give me a call and we can set up a time to meet.

Parents who book a Baby Blessing will receive the password so that they can select the components they want to incorporate into their child's Baby Blessing.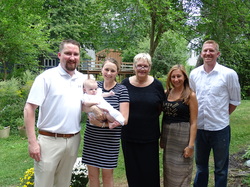 "Thanks again for the wonderful baby blessing ceremony last weekend!"
Jeff and Ashley and Graham

---