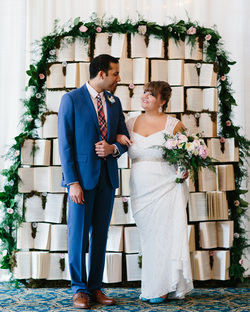 ---

Marriage License Is Required.
I always require a marriage license when officiating a wedding. If your ceremony uses words like "married, marriage, spouse, husband, wife, wedding, wed, bride, groom or any other word that implies marriage, " it requires a marriage license. Since most of the weddings I officiate are within New York State, this page focuses on NY State requirements. If your ceremony is to take place outside New York State, please check the requirements of that state.

If you were married to each other prior and now want to have a marriage ceremony in front of friends and family, I still require a marriage license. In New York, simply tell the issuing clerk you are already married and that this will be a second ceremony. There is a small box they check on the marriage license. Please direct any questions you may have to the issuing clerk.

Use the links below to determine procedures for obtaining a New York State Marriage license. You may get your license anywhere in the state. It does not need to be obtained in the city, township or county of your ceremony or of your residence. Please note that NYC ID requirements and fees are slightly different than the rest of the state.

Pay close attention to the time restraints for validity. You can get your license up to 60 days before your ceremony. It must be obtained at least 24 hours before your ceremony start time. Your ceremony must take place within the noted validity dates.

I will obtain the witness( signature(s) complete my portion, and mail the license back to the issuing clerk. The clerk will record your marriage with the state and will mail you back the official document you will need for name changes, insurance etc.

Renewal of vows, handfasting and commitment ceremonies do not require a marriage license as long as they do not use words that imply or indicate this is a marriage ceremony.