Blessing Stones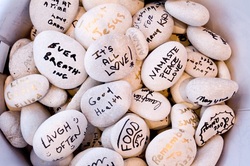 Several couples have chosen to use Blessing Stones during their ceremony. Guests hold the stones during the ceremony sending them prayers, loving thoughts, wishes or positive energy. During the reception, they write the blessing either in a book or directly on the stones. The couples place their stones in their home. The stones pictured are from my the wedding of my daughter and son-in-law.
---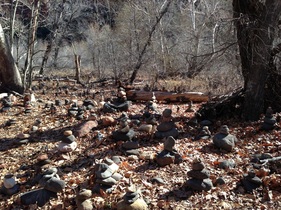 A Cairn ( from the Scottish Gaelic) is a stack of stones. Those pictured here are from Buddha Beach near Cathedral Rock in Sedona. Consider making one or more Blessing Cairns as part of your ceremony. This would be especially nice if your ceremony was on your own property or an outdoor location where you could leave it up.

---
Oathing Stones

Tricia and Eric used a heart shaped stone that Eric found for Tricia years ago. They used it during their vows as a symbol of their everlasting bond.

Christopher and Cassandra incorporated oathing stones in to their ceremony. You can do so as well, either with a bundle of stones or a large stone. Speaking your vows over stones "sets them in stone." It's a lovely addition to your ceremony and provides a lasting keepsake.