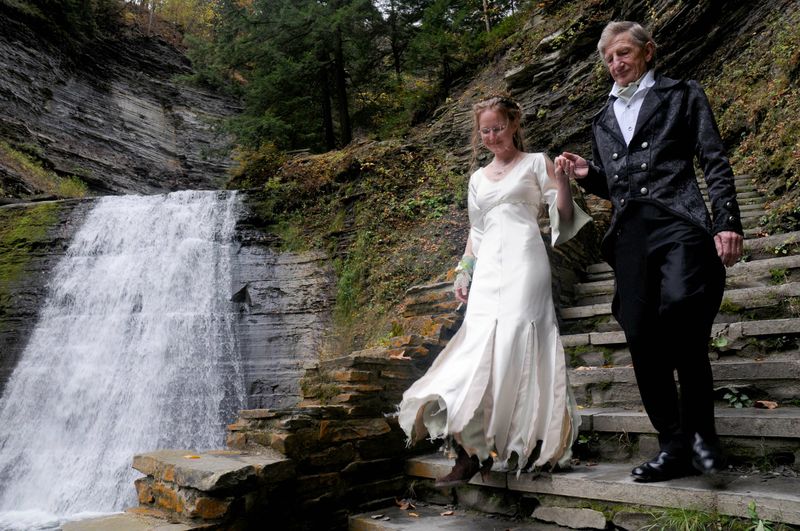 Openings
Select the opening for your wedding ceremony. Additional Openings options are available on the password protected Reserved for Booked Couples Openings page.

If desired, questions, such as "Who presents this woman to be married to this man?" can be asked at the start of the ceremony.

Once everyone has made their entrance, the ceremony opens with a welcome to all those in attendance and a brief acknowledgement of what is about to transpire. An optional acknowledgement can be made of loved ones who have passed, who are present in spirit, close in your hearts, or blessing the ceremony.

Couples who choose a religious or spiritual ceremony often decide to include a prayer asking God, a Higher Power, Divine Energy or Spirit to bless the ceremony and the marriage. This might be a well known prayer that guests may participate in or a more universal prayer spoken only by the minister.

Sample Openings:
We are gathered here today to celebrate one of life's greatest moments, to recognize the worth and beauty of love, and to cherish the words which shall unite ____________ and ____________ in marriage.

Friends and relatives, we have come here today at the invitation of __________ and __________ to share in the joy of their wedding. This outward celebration is an expression of the inner love and devotion they have in their hearts toward one another.

Good evening to all friends and family. ________ and ______have asked me to thank you all for coming from distances both near and far to be a part of this special day.


With the horizon our only walls, the sky our only ceiling and the earth our floor, we meet here in nature to affirm the love of ______ and _____.

Sample Openings that include God or a Higher Power:

_____________and ___________have asked me to formally welcome you to the celebration of their love on this wedding day. It is their hope that this day will help bring us all closer together. Those who chose can use this ceremony as an opportunity to renew their own commitment to their partnership or marriage. We welcome the Divine as the source of all Love

Dearly Beloved: We are gathered here, in the presence of God and of this company, that ______ and ______ may be united in holy matrimony. We ask God's blessing on this commitment, both today and in the days to come.

Thank you for joining us today to celebrate the marriage of ___________and ___________. The family and close friends who are present have supported and blessed them along the way. This ceremony was created by _____and _____ to express their love and commitment for each other and to thank you and God for always being there for them.

Good evening to all friends and family. ________ and ______have asked me to thank you all for coming from distances both near and far to be a part of this special day. Let us open this sacred event with a prayer (prayer of your choice)

Sample Opening to acknowledge family
Today we witness the joining of two lives and two families and acknowledge the beauty and bounty of love present here

We see love in the eyes and hearts of ( ) and ( ) as they join together in marriage.

We feel the love they have for _______ (child's name/children's names). With the unconditional love ( ) and ( ) have for these children, they can grow to their full potential and achieve their dreams.

We hear the love in the words of the friends and family present. People who are important and connected to them , people who have loved and supported ( ) and ( ) along the way.