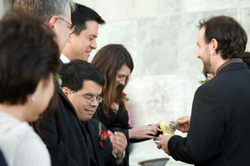 Tea Ceremony
Sample wording:
The tea ceremony is a way for the bride and groom to pay respect to their family. Traditionally, the tea ceremony is done in private but ( ) and ( ) chose to incorporate this tradition into their wedding ceremony as a unity ceremony. It's a beautiful way to express gratitude to their parents for their upbringing.When family members drink the tea they are acknowledging that a new member is going their family.
When family members on both sides share tea together it is symbolic of the joint of two families.


In the Chinese tradition, the couple receives "lai see" (the red envelopes) in the form of money or jewelry. In the Vietnamese tradition- parents give marriage advice and gold jewelry and red envelopes are gifted.

---